Monday, April 21, 2008
On Saturday my grandma passed away.

I didn't go out of the house Saturday - cancelled all my photo shoots and stayed in with the fam. Sunday I went out for the first time - and it was almost tangible the feeling taht something in the world was amiss. There was a hole in my universe - a big gaping hole. Man - I am going tomiss her. Even though we did not speak often enough because of distance, I alays knoew she was there. Now that she is gone I realize how much I thought about her as I went through my day to day duties.

Madi has taken to sleeping with GG's photo. She feels everything so deeply.

Tomorrow we start the trek to Nestor Falls. Fly to Thunder Bay - my old home town - and then a 5 hour drive to Nestor Falls. It will be good to be back. Since I am unable to see Grandma (she is being cremated) I think being back in Nestor Falls and her absent will help me realize this is final.

I have had to deal with death of loved ones more often than I would wish - but never one that left such a big hole in my heart.

I love you GG!

You can read more about my thoughts here: www.kristajefferson.com/blog

Posted at Monday, April 21, 2008 by
Krista
Permalink
Thursday, April 10, 2008
This morning our day started with the usual - Eden bounding into our room and announcing something. Today it was to Mark "You're the World's Greatest Dad!!" What a way for him to start the day! Other things Eden has starte dour day with in the last week...

"I found money!!!!!!!!!" (this was shouted - she climbed into the top bunk with Madi and woke her up to tell her, told Mark and I.) It was a penny she found.

"Let's pretend the house is a barn. I'm a horse. So are you. And I am a black horse and my name is black beauty and I have a bit in my mouth."

"Let's pretend.. (we hear these two words A LOT!) I'm a reindeer. And this is the North Pole. And I'm Santa's helper."

I love waking up to eden's randomness!

---
Today I was putting some Johnson & Johnson cream on Eden and she says "There's a baby on the bottle. I'm not a baby. I'm a big girl. (Note: she just yelled at a woman 5 minutes before for calling ehr a lady - "I'm not a lady! I'm a kid!!") I wish I had a baby brother to put this cream on. I want a baby for Christmas. And gum."

---
Posted at Thursday, April 10, 2008 by
Krista
Permalink
Tuesday, April 01, 2008
Dad got home from delivering a plane to Yemen today - yeah! Not sure that's a place I want him to frequent. Although he's talking about going for a month ata time to fly - and mom joining him. If you know my mom at all - she will put her foot in her mouth and be stoned probably.

---
Madi is dillegently praying for purple eyes. Eden is praying for one purple and one red.

---
My girls have been fighting so much lately! Brings back memories of my childhood with my brother...

---
My sister Marcie babysat yesterday - not only did she come and watch the girls for the whole day on her day off... she showed up with a homemade lasagna, cheese buns and salad for supper!

---
My Grandma (who is about 94) is my favourite person ever. She's been feeling sick lately. Only time she has ever been in the hospital is to have kids - which was over 60 years ago. Makes me sad to hear she's sick. I'm going up to Thunder Bay in May - can't wait to see her!

---
Saw "Dan in Real Life" movie the other day - loved it!!

---
It's official. My favourite food at a restaurant is Kelsey's spinach dip. It's not so much the dip as the fried pitas. Mmm....

---
At supper tonight Madi prayed: "Thank you for the food. Thank you for Eden. Thank you for mom who makes the mess. Thank you for dad who works so hard. Thank you for me and please make my eyes purple. Amen." Man - is she perceptive!

---
I looked through a travel magazine that surfaced in my house last week. A cruise in Greece, Turkey and Egypt was top of my list. Wow. I'd love to go to Turkey! And Tuscany still! And I spent a summer in Malta when I was 16 - would love to go back.


---
Mark and I are having a date night Friday - woo hoo! And the wonderful Amber is babysitting. Amber is the coolest. She does not say "sure I can do it" when asked - she says "Can we make a fort or set up a tent and watch a movie? Eat popcorn and snacks..." I LOVE AMBER!

---
Today Eden randomly points at Mark and yells "handsome!"

---
Every sentence Madi says now ends with "when I was 4" or "when I was 5". For example... "I don't like this supper - I tried it before when I was 5" (note: She is 5 now). Or "When I was 4 I didn't like getting my hair brushed". She is so age obsessed - hilarious!

---
Madi announced that she is having her birthday party (in Sept) at Sea World.
Yeah, we'll just fly all her friends to Florida for her bday. Good idea.


---
Posted at Tuesday, April 01, 2008 by
Krista
Permalink
Today I had to walk the kids to school as the car was in the shop so Mark took the van. Because we send Madi to french imemrsion - the school is a bit further to walk to (not the school she's zoned for).
I left in a very bad mood.
A
Terrible, Horrible, No Good, Very Bad Day
But then something happened.
The sun came out and the world came alive.
I saw a robin red breast.
Madi showed me how she runs like a cheetah.
Eden called out "mom" and when I answered she said "not you, I'm talking to my pet panther named mom" and I laughed outloud.
Madi picked up a stick and pretended it was a magic wand and commanded the weatehr to become summer.
Eden had a screaming fight with the "stupid wind" because she hates the wind blowing in her face.
We saw a man riding a wagon pulled by a pony on Main St. in Hamilton.
Madi sang me worship songs from church.
Eden and I spotted flowers defying the neverending winter and starting to grow!
Madi told me about her day in more detail (true facts for once) than I've had in ages.
Eden picked our route as we meandered home.
My daughters held my hand.
I was reminded - life is good. Very good.
Posted at Tuesday, April 01, 2008 by
Krista
Permalink
Friday, March 28, 2008
Nothing so relaxing as taking a nice hot shower... and having a three year old pound on the door every 30 seconds yelling "are you done yet?"

---
Yesterday my GPS said "turn left here" and I hear from the back seat someone sing "to the left, to the left..." Hilarious!

---
When I asked Madi if she learned any new french yesterday (note: she's in french immersion) she said "No, today we learned english. And Spanish. And some Chinese." How will I ever know what this kid is learning?

---
Yesterday driving in the van, Eden says "Let's pretend this is a boat and teh road is water..... Mom, do you know how to drive a boat? And does this boat have any music?!?"

---
I am wondering how Eden every single time she drinks hot chocolate gets it from her forehead to her belly. Such a mess!!

---
We are reading Ramona books now - I forgot how much I love her! I'm loving that Madi is enjoying chapter books now. So much fun!
---
I am looking at going back to New Orleans in May to work on a photography project
that is rattling around in my mind. We'll see....

---
Next weekend I have a wedding - can't wait!!!!


Posted at Friday, March 28, 2008 by

Krista Permalink
Friday, March 21, 2008
So, I have been on a personal blog hiatus for awhile and decided to get back at it! I'll start with one of my "Random" posts people seem to like...

I am just home from my "sin city" tour as I jokingly like to call it. Started with going to New Orleans two weeks ago with Jen K as she was there for work and I tagged along. And then last week we went to Vegas for a photography convention - and this time she came with me. Interesting how much the New Orleans trip effected me personally - and how much the Vegas trip for Jen. We are both leaving changed!! Incredible adventures.
----------------
I love Jane Austen. A lot. Pride and PRejudice is my fave novel ever. So, imagine my delight when we were in New Orleans for three nights - and over the course of those three nights Pride & Prejudice (the BBC version) was on TV!! Then, when we went to Vegas - my seat mate on the plane was reading Pride & Prejudice!! And on the flight home "Becoming Jane" was the movie. So cool.
--------------
Before I left for VEgas my girls decided to draw on their faces - with permanent marker! Eden drew black all around her mouth and Madi drew purple Dalmatian spots on her face, hands and feet. Nice.
-------------
The other day Eden was swishing her spit around in her mouth. When I asked her what she was doing she said "I gave my tooth a bubble bath" - so random. I love it!
-------------
Madi drew me a lovely picture today of me and her at sunset with.... an ostrich. Not sure why there was an ostrich. But there it was in the picture with us. I mean, I guess if I had to choose who to watch a sunset with, an ostrich would be pretty high up on the list.
--------------
My hubby continues to amaze me. I came home from my trip to a nice neat home (way cleaner than when I left it), dinner in the crockpot and he came home from work with flowers for me. And I happened to notice multigrain nachos in the cupboard and diet coke in the fridge (my favourites!)
------------
Madi made me breakfast in bed today. Is there any better way to start a day than a beaming 5 year old bringing you toast, tea and a banana? And an extra huge dose of love.
------------
Beth works with me - she has become like family. I love her a lot. And I'm super proud she just found out she got into Sheridan next year for photography - yeah!!!
-----------
This summer we're suppose to take my in-law's motor home and go to PEI. With gas prices the way they are I'm wondering if this is our best choice. I wonder what else we could do...
-----------
The other day Beth and I were driving and "lovers in a dangerous time" came on the radio. Didn't think anything of it - but now Madi sings it all the time. Pretty funny hearing this 5 year old belting it out in the mall. Eden's fave song right now is "that's what friends are for..." - she's singing it right now at the top of her lungs instead of sleeping.
----------
My cousin Kathryn is getting married in May in the big town of Emo - halfway between Thunder Bay and Winnipeg basically. Middle of nowhere. I can't wait for her wedding - I adore Kathryn & Aaron, and to see some of the family I don't see as often. The girls are flower girls (their dresses are SO cute!) and I'm doing photos for her. I'm really hoping to get to Thunder Bay to visit my Grandma (GG) and aunts first. I love GG and don't get to see her nearly often enough. I think if I had my way I'd see her every single day. She's the coolest.
--------------
Today I heard two devastating stories. Jen came home to find out her sister's in-law's home burned down and they lost all their possessions. Unbelievable.

The second was more heart wrenching and I bawled even though I don't know them. A couple my mom knows was just killed in a car accident and leave behind a 3,5 and 10 year old. With my kids being 3 & 5 it hit me hard. Couldn't imagine...
------------
Looking forward to Easter with the fam this weekend. I love my family - and with being away so much lately it makes it all the more sweet to get a big chunk of time with them!


Posted at Friday, March 21, 2008 by
Krista
Permalink
Saturday, November 10, 2007
This morning we got the call we all dread. Mark's Grandpa passed away this morning. Although he has been sick for too long and was hospitalized last night, I was taken by surprise. I guess you call it denial.
I loved Grandpa very much. When we'd go visit - which was never often enough - his face would just light up. He'd hug Mark as tight as humanly possible every time - a grandpa/grandson ritual. He'd dance with my girls and laugh at their antics - even though he rarely heard what they said. He always had candies and treats for "us kids" and the great grandkids crafts on display. He has gone through many years of pain and sadness. He was a man of much love and we'll miss him a lot.
The girls don't understand. Especially Eden. She said "don't worry, he'll come back to life". Too many cartoons for kids to understand the finality of death. Madi went to the kitchen and got me cookies "to cheer me up" and gave me Grandpa's photo off of our fridge. Eden saw I liked when Madi gave me the photo so she got me the first thing she could grab off the fridge too - a notepad that says "I love Jim" (Jim from the Office :-))
A couple weeks ago when we all got together for our early "Christmas" (before Ron & Louise headed to Florida fro the winter) I did some family photos - now I am so glad! Sad thing is I just shipped them yesterday to everyone - what timing. Here are a few memories of a man I loved very much. Good bye Grandpa!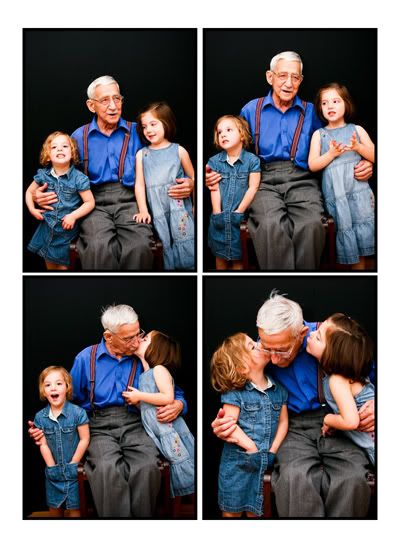 Posted at Saturday, November 10, 2007 by
Krista
Permalink
Monday, August 06, 2007
Just a few pics from this past weekend's camping trip...
LINK
Posted at Monday, August 06, 2007 by
Krista
Permalink
Friday, July 27, 2007
For our girl's birthdays (starting at age 3), instead of spending money on more stuff they don't need - we give them the gift of doing something as a family instead. Making memories. Today to celebrate Eden's 3rd birthday we went to Wild Water Works. It was GREAT! The girls loved it and we were there from the time it opened until 5ish. We didn't plan to stay that long but someone - not mentioning names (but the only other adult in our family) lost the key to our van while on the water slide! Ha! Ha! Good thing we had a spare at home!
The one thing I wanted to mention was my brave little Madison. She was just tall enough to go on the "body slides" (not the ones you use a tube on). So, I climb all the way up to the top with her while Mark took Eden to the kids pool area. We get to almost our turn and I ask the lifeguard "So, does she just sit in my lap or how does this work?" And to my surprise I'm told she has to go by herself down.
She's 4 years old! She's little! But she is so excited that I agree.
He suggested I go first so I can catch her at the bottom. This means I have to go down and leave my little, tiny, precious Madi at the top to come down all by herself. I go over the plan with her over and over and then I go down the slide looking over my shoulder the whole way feeling immense guilt. The water slide is long and VERY fast - and you feel like you're going to splash right over the side on some of the corners! I'm almost in tears thinking of my firstborn coming down their alone and how scared she'll be. I wait at the bottom, biting my nails, listening for Madi's crying....
And out comes Madi beaming from ear to ear laughing. "Can we do it again. Mom???" What a kid!!
It was a great day. The kids pool area was perfect for the girls ages, they loved the wave pool and lazy river tube ride. Very fun!!
We went straight from their to my parents place as they were having a family BBQ with my extended side of the family I don't see often enough as they're so spread out. WE just got home at midnight. Yawn.... Vacation is tiring!
Posted at Friday, July 27, 2007 by
Krista
Permalink
Friday, July 20, 2007
I haven't blogged here for awhile - since Facebook took over - but I love to sit and reflect on my girls on their birthdays. So, even though it's day#1 of vacation I had to stop and write a brief note about my Eden...
Three years ago today I met Eden face to face for the first time and it's been love ever since. This kid can make me laugh with just one glance or smirk on her face. I love to watch her adoringly follow her sister around... I love to watch her pretend to be a kangaroo, a dinosaur, a koala bear, a chimpanzee, a pegasus..., I love that she laughs easily and much.... I love her sense of style - never without a cape, hat or gloves.... I love her enthusiasm and zest for life... I love this kid so much it hurts.
This has been such a year - no longer a baby. She's a little girl now.
Eden means "delightful" and she has been such a source of delight for us all. We also pray that she will know God early and walk with Him - striving for that same companionship once known back in the Garden of Eden.
Eden Gahla Jefferson - you're awesome and I love you monkey-girl!
Eden beaming at her birthday cake...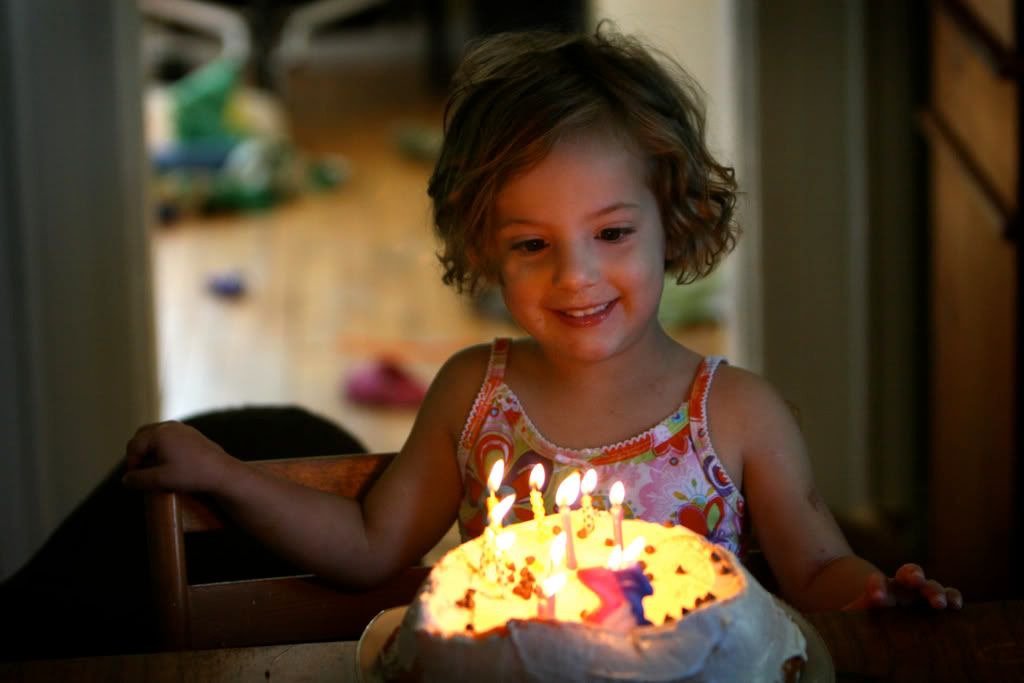 Eden showing off her new pink cowboy boots from mom & dad...
Eden was quiet in the kitchen - caught her dipping the candle in the cake icing and licking it over and over and over....
If you don't know - we're on vacation and house sitting for Monica. Monica has a big chocolate lab Phil - my girls could not be more thrilled. Remembering Eden is allergic to dogs - look how she has spent the last 24 hours...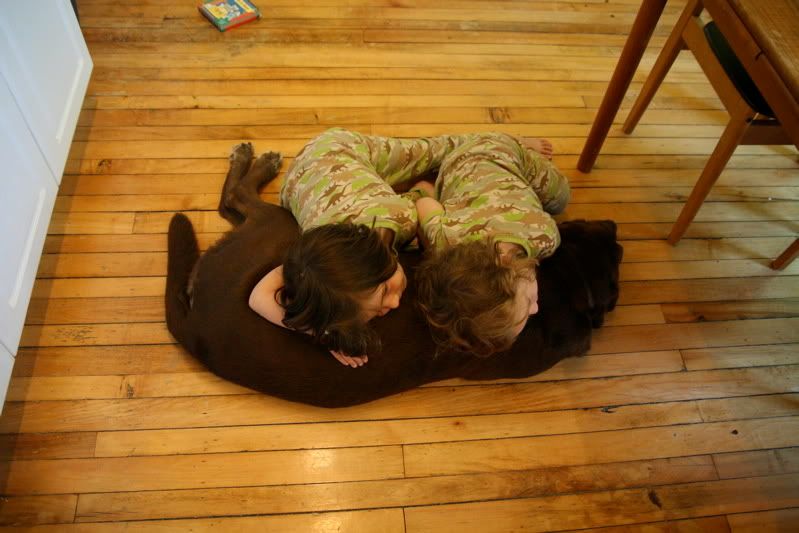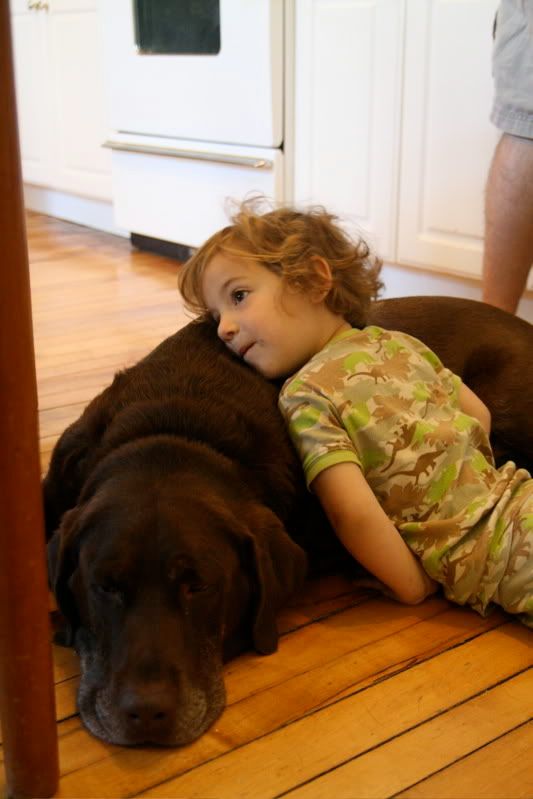 Posted at Friday, July 20, 2007 by
Krista
Permalink