This morning we got the call we all dread. Mark's Grandpa passed away this morning. Although he has been sick for too long and was hospitalized last night, I was taken by surprise. I guess you call it denial.
I loved Grandpa very much. When we'd go visit - which was never often enough - his face would just light up. He'd hug Mark as tight as humanly possible every time - a grandpa/grandson ritual. He'd dance with my girls and laugh at their antics - even though he rarely heard what they said. He always had candies and treats for "us kids" and the great grandkids crafts on display. He has gone through many years of pain and sadness. He was a man of much love and we'll miss him a lot.
The girls don't understand. Especially Eden. She said "don't worry, he'll come back to life". Too many cartoons for kids to understand the finality of death. Madi went to the kitchen and got me cookies "to cheer me up" and gave me Grandpa's photo off of our fridge. Eden saw I liked when Madi gave me the photo so she got me the first thing she could grab off the fridge too - a notepad that says "I love Jim" (Jim from the Office :-))
A couple weeks ago when we all got together for our early "Christmas" (before Ron & Louise headed to Florida fro the winter) I did some family photos - now I am so glad! Sad thing is I just shipped them yesterday to everyone - what timing. Here are a few memories of a man I loved very much. Good bye Grandpa!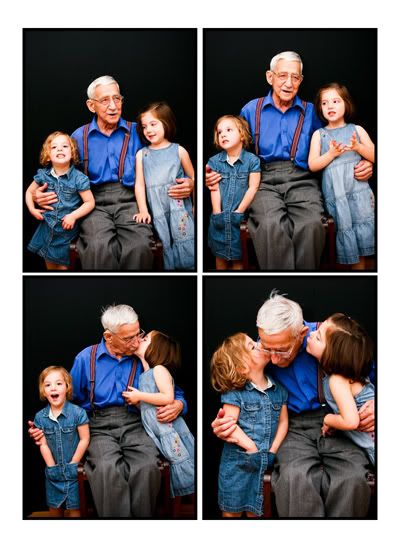 Posted at Saturday, November 10, 2007 by
Krista
Ron & Louise


November 14, 2007 12:22 PM PST



Krista - Thank you so much for this memorial to Dad/Grandpa/Great Grandpa. I know that he loved you and the girls so very much too.

Love, Mom and Dad G xoxo
Jaci


November 11, 2007 11:55 AM PST



I'm so sorry for your loss (Krista and the rest of the fam). We'll keep your family in our prayers. Those pictures must be even more special now.